Bidding Notice: Feel free to view lots in person: Open Monday to Friday 9AM – 12PM & 1PM – 5PM Viewing available Saturday October 16 9AM to 3PM
 Auction Notice: NO PICKUP ON SALE DAY. ALL PICKUPS / IN PERSON PAYMENTS BY APPOINTMENT ONLY!!To make a pickup appointment please click on the pickup appointment tab after the Auction.Everything sold AS IS. If seller has been blatantly fraudulent let us know right away. It takes 2 weeks from Auction end date for sellers to be paid. Once they have been paid its too late, and there is nothing we can do regardless of the circumstance.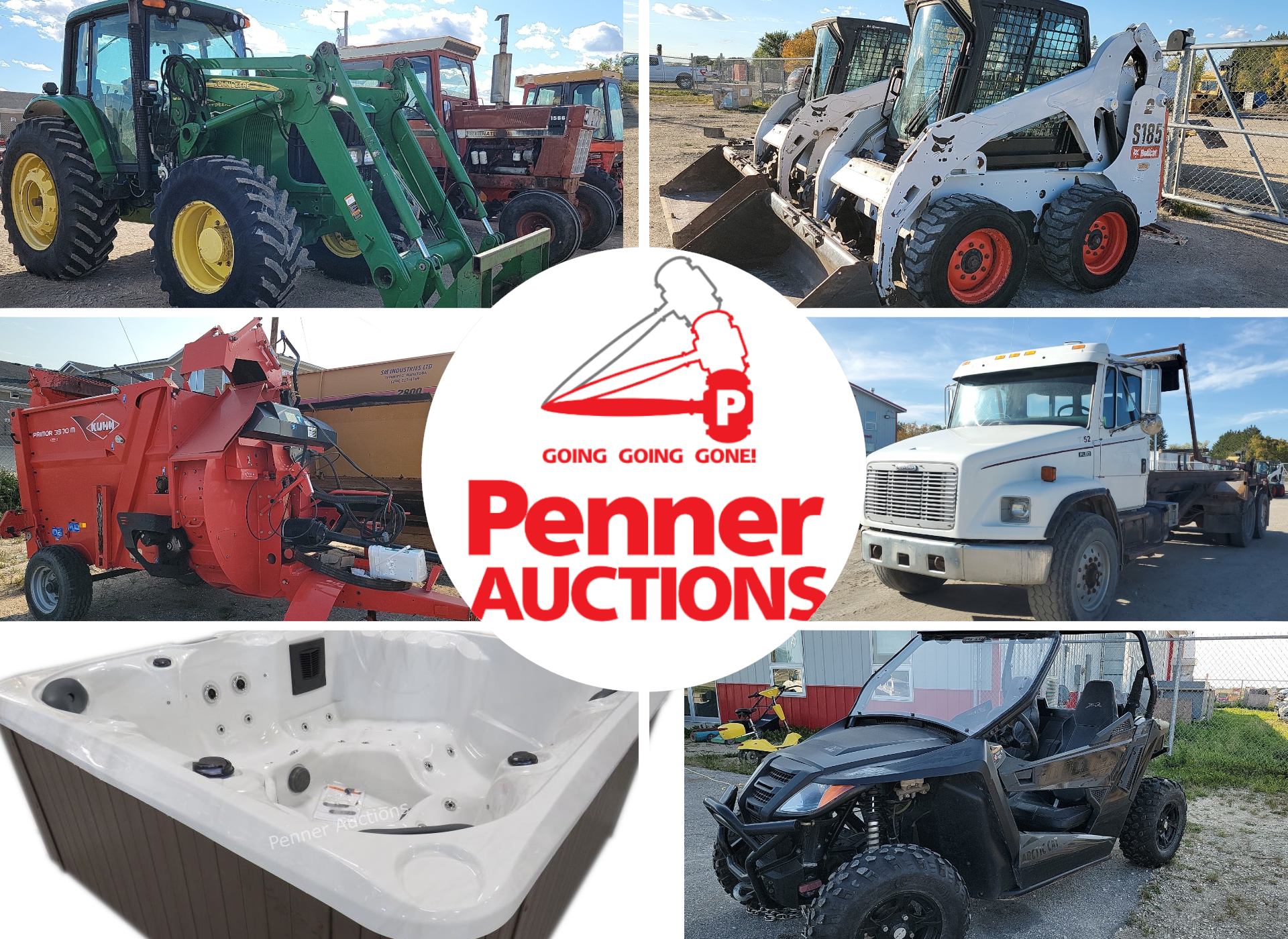 Please schedule an appointment to pickup you lot(s). You will only need one appointment per buyer.
Bidding Notice: Bids can not be re-tracted, do not confirm your bid if you are unsure what your are bidding on. All property is sold "AS IS", and ALL SALES ARE FINAL. Property is open to thorough public inspection. It is the Bidder's responsibility to determine condition, age, genuineness, value or any other determinative factor. Penner Auctions may attempt to describe the merchandise in advertising, on the Internet and at the auction but makes no representations. In no event shall Penner Auctions be held responsible for having made or implied any warranty of merchantability or fitness for a particular purpose. Bidder shall be the sole judge of value.
 Auction Notice: REMINDER TO SELLERS: You have agreed to sell items Unreserved to the final Bidder!! That means no minimum bids. This is a 100% Un-reserved Auction. All forms of shill bidding, including collusion, bid manipulation and bidding on lots that you, or a party that is affiliated with you, have consigned to the auction is strictly forbidden. You may not make a bid under a false name or as agent for a person who would himself or herself be prohibited from placing a bid on a particular lot. Bidding on items that you own will result in bids being cancelled and bidding privilages suspended. Additional penalties may also be applied.
---
Name
Pre-Harvest Equipment & Consignment June 2021
Auctioneer
Penner Auction Sales Ltd
Type
Online-Only Auction
Date(s)
6/8/2021
Bidding Closes June 8th starting at 10 AM The first lot soft-closes at 10AM, each lot is staggered seconds after.
Preview Date/Time
Feel free to view lots in person: Open Monday to Friday 9AM - 12PM & 1PM - 5PM Saturday June 5th, 2021 9AM - 3PM
Checkout Date/Time
Please make payment / checkout by June 15, 2021
Location
218 Brandt Street
Steinbach, MB R5G0V8
Buyer Premium
5% up to $500
Description

PLEASE READ SHIPPING & PAYMENT INFORMATION PRIOR TO BIDDING! Items not paid in full by payment deadline will incur late fees. All Items must be picked up by removal deadlline unless prior arrangements are made or storage fees will apply. ALL PICKUPS, DROP OFFS & IN PERSON PAYMENTS BY APPOINTMENT ONLY!!
This is a preview page, remember to publish it if needed. You can edit the full calendar and form settings into the admin settings page.
Please select a pickup time
Auction Location: 218 Brandt Street, Steinbach, MB R5G0V8
Auction Date & Time: Thursday November 26th at 2PM
Property: 34 Briarfield Court,  Niverville MB
Deposit: $25,000
Reserve Bid: $173,600 plus such other additional and incidental cost which may be incurred by the vendor.
Further information may be obtained from:
Taylor McCaffrey LLP
ATT: Daniel Ransom / Jo-Anne Degagne
File No: 55451-87
For complete details view mortgage sale ad click here